What to Expect With Halcyon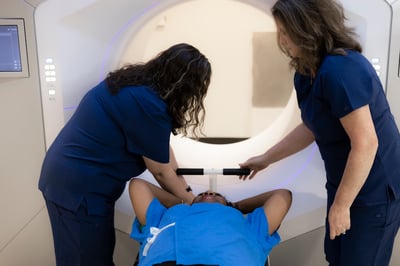 The radiation oncologists at Radiotherapy Centers of Georgia begin treatment with a planning appointment. Typically, this involves taking a detailed 3D image of your tumor so we can better understand your specific case. This visualization process helps us know the precise size, shape, and location of the tumor. It also helps us determine the appropriate doses of radiation you will need.
After your initial consultation, one of our radiation oncologists will begin to develop a detailed treatment plan based on the information gathered from the 3D image of your tumor. This personalized plan includes information, such as the radiation dose needed to attack the tumor as well as the angles we need to approach it from. It is during this time that a treatment schedule will also be developed.
When you come to the center for treatment, the radiation therapist will position you on the treatment table and ensure that you are comfortable. Another image will be taken to verify that no changes have occurred with the tumor since your planning appointment.
The Halcyon machine delivers radiation by a linear accelerator, which rotates around your body as it projects the beam. Because the rotating beam gantry is enclosed within the opening, you will not see this rotation. The delivered beam conforms to the shape of your tumor while avoiding the surrounding healthy tissue. An integrated camera system and two-way intercom allows you to remain in contact with the technician as needed.
How long the course of your treatment lasts will depend on your individual diagnosis. However, the entire process of each visit takes only a few minutes since Halcyon delivers treatment four times faster than standard technology.
While radiation therapy can cause side effects, they are often minimal. Please talk to your radiation specialist if you have any concerns.
Halcyon Radiotherapy Treatment in Georgia
Radiotherapy Clinics of Georgia is happy to be one of only two centers in the state of Georgia treating patients with the highly effective Halcyon approach. Our expert team of radiation oncologists located in the greater Atlanta area are here to help you receive the quality treatment you need in less time.
Patients in the Atlanta area and surrounding cities can receive radiation therapy close to home at any of our treatment centers with advanced technologies in Blairsville, Conyers, Covington, Decatur, and Snellville, Georgia. Request an appointment today to discuss your options with our radiation oncologists.