Oncology is the medical specialty of treating cancer. There are several types of oncology, each one focusing on a different type of treatment to help the patient. The doctors who specialize in each type of oncology work together closely on the patient's cancer treatment plan. The following are some of the most common types of oncology:
Radiation oncology - treating cancer with radiation that can be delivered externally or within the body, called brachytherapy.

Medical oncology - treating cancer with drugs such as chemotherapy, immunotherapy and hormone therapy.

Surgical oncology - specializes in the removal of cancer at the right time to reduce the risk of spreading cancer cells inside the body.

Gynecologic oncology - focuses on cancers of the female reproductive system and often performs surgery to remove the tumors.
There are other types of oncology and you may be recommended to see a specialist based on your specific diagnosis. For many patients, depending on the type of cancer, they will see 2-3 different oncologists who work together on a customized cancer treatment plan.
Who is on Your Radiation Oncology Team?
When receiving care at one of our Atlanta-area radiation therapy cancer centers, you'll encounter several different people as part of the treatment planning and delivery process. Your team includes: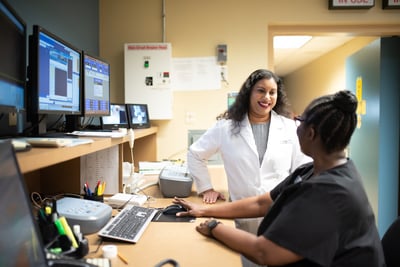 Radiation Oncologist - this doctor oversees your radiation therapy treatments. These physicians work with the other members of the radiation therapy team to develop your treatment plan and ensure that each treatment is given accurately.

Radiation Oncology Nurse - nurses who specialize in caring for patients receiving radiation therapy. They will work with the radiation oncologist and technician as well as help explain treatment, side effect management, and other important information to each patient.

Radiation Therapist - the highly trained technologist who administers the radiation therapy to the patient over the course of their treatment plan.

Physicist - specializing in cancer treatments, the physicist works with the radiation oncologist while planning each radiation treatment and any follow-up changes that may need to be made once the patient begins radiotherapy.

Dosimetrist - the person who calculates the dose of radiation to make sure the tumor gets enough radiation but not more than is needed to reduce side effects for the patient as much as possible.