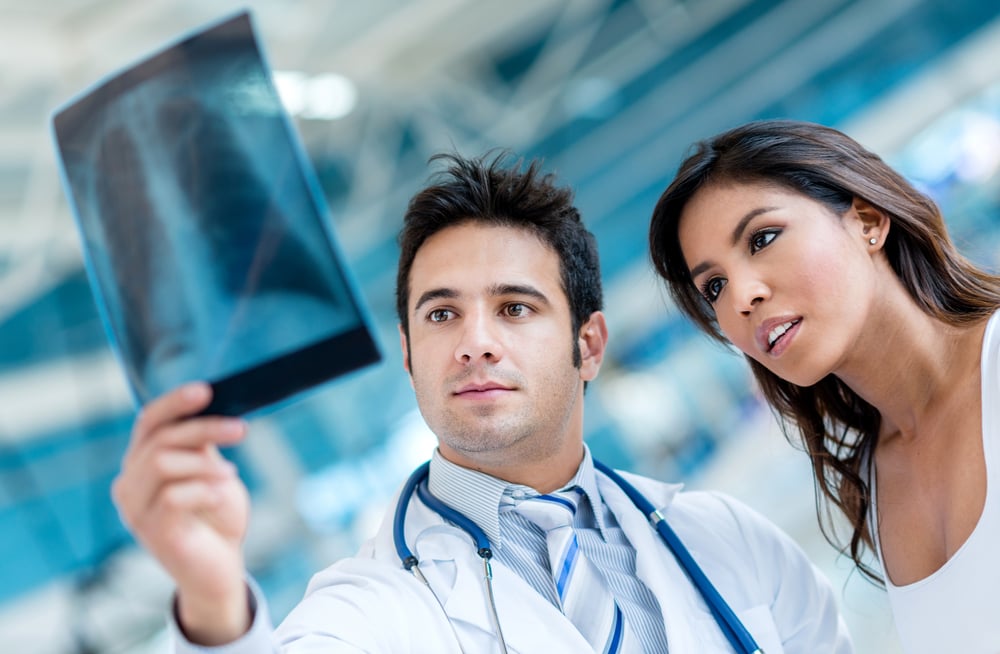 If you've been diagnosed with lung cancer, you likely have many questions about your treatment options – including where you will receive treatment, who will oversee your treatment and how long treatments are going to take.
Patients are diagnosed after a lung cancer screening or they start to show symptoms of lung cancer. The doctor who runs these initial tests is going to recommend you visit an oncologist – a specialist who treats patients with cancer. However, they won't be the only treatment team members during your cancer journey. Let's take a look at who is usually a part of the lung cancer care team.
Your Lung Cancer Treatment Team
There is no one-size-fits-all approach to treating lung cancer because everyone is different. You may need some treatments that others do not based on the type of lung cancer and its stage.
Your care team will make a personalized plan just for you based on what is most likely to work best in your specific situation.
Medical Oncologist Leads the Treatment Team
A medical oncologist is a doctor who specializes in cancer treatments that are systemic -- or use drug therapies to treat cancer. This includes chemotherapy, immunotherapy, and targeted therapy for lung cancer. This is the type of doctor most patients will see first after a lung cancer diagnosis. Because of this, the medical oncologist will typically take the lead in coordinating other specialists that are needed for the best possible outcomes.
After meeting with the other physicians that will be involved in the lung cancer treatment process a personalized treatment plan is recommended. The order of the treatments depends on the size and number of lung tumors, location in the lung and stage of cancer.
In some cases, chemotherapy or other medical oncology treatments begin before surgery or other treatments are used in an attempt to shrink the tumors.
Radiation Oncologist
A radiation oncologist is a doctor who specializes in using radiation to kill cancer cells. Radiation therapy is very precise and focuses on a specific area of the body where cancer is located.
For lung cancer patients, radiation therapy may not be used if the cancer has spread throughout the lungs. However, if there are just a few tumors it may be an option and can be used before and/or after surgery. It's also used to treat lung cancer tumors that appear in other parts of the body such as the liver or brain.
The type of lung cancer can also impact the type of radiation therapy that's used. External beam radiation therapy is the most common. Treatments are usually administered once or twice a day, five days a week, for five to seven weeks, depending on the purpose of the radiation treatments.
Radiation oncologists will help decide what type of radiation will be used in treatment, frequency, duration of each session, and how many sessions are necessary.
Surgeon
While surgery is not always recommended for lung cancer patients, there are specific instances where surgery can be a critical component of your treatment plan. A thoracic surgeon who is familiar with lung cancer removal is the best type of surgeon to consult with.
Depending on the size and location of the tumors the surgeon may need to remove a portion of the lung, or an entire lobe of the lung.
Other Team Members on the Lung Cancer Treatment Team
Once you've been diagnosed with lung cancer, you'll be cared for by a team of specialists. The size and composition of your care team will depend on your situation. Team members may include:
Nurse Navigator - Before meeting with an oncologist you may talk with a nurse navigator who can guide you to the right types of physicians in the order that makes most sense for you.
Radiation Therapists - These are the people you see at every radiation treatment. They help get you into the position for your treatments and will assist with minimizing side effects.
Chemo Nurses - While receiving medical oncology treatments you'll be tended to by a nurse in the infusion room. Be sure to talk to them about any side effects you may be experiencing.
Financial Counselor - The practices where you see the physicians are likely to have someone who will help you through the insurance payment process and explain what portion, if any, is expected from you.
Social Worker - You might also benefit from meeting with an oncology social worker. This person is a great resource for discussing needs that aren't specifically related to treatments such as mental and emotional health. They are also aware of resources for cancer patients and their families in the Atlanta area.
Dietitian - During your cancer treatment it might be hard to eat. A dietitian can create a healthy eating plan based on your needs and preferences.
Choosing the Right Team for You
It's really important you're comfortable with and confident in every member of your lung cancer treatment team.
Your primary care physician or pulmonologist may recommend an oncologist. It's a good idea to explore more than one option. Feel free to get a second opinion. Oncologists are not offended when patients see another specialist. In fact, your insurance may also pay for the second opinion visit.
Once you choose a medical oncologist you also have a say in where you go for radiation therapy and your surgery. Do research to be sure you have found the radiation oncology team you trust with both the latest technologies and convenient locations since you will go there every weekday for several weeks.
Finding a Radiation Oncologist in the Atlanta Area
If you, or somebody close to you has received a lung cancer diagnosis, it is important to find the team that meets all of your needs.
For those in the Atlanta area we are here to help patients with radiation therapy in or near Blairsville, Conyers, Covington, Decatur, Lawrenceville, and Snellville.
Request an appointment at one of our convenient locations for a consultation with our experienced radiation oncologists. We can discuss the right treatment plan for you while making sure it's conveniently located near your home.