How do you choose between ProstRcision and a radical prostatectomy? Just like you would compare any two treatments: which one gives you the best chance of zero PSA 10 years later for your particular case of prostate cancer. There is no one cure rate for surgery because it varies with the skill of the urologist. Also, microscopic capsule penetration is probably a bigger problem for surgery than ProstRcision. You should also look at the other two big issues: urinary incontinence and loss of sexual function.
Comparison of ProstRcision and Radical Prostatectomy. A larger area is treated with ProstRcision compared to Radical Prostatectomy, where cancer may be left behind. This is called positive surgical margin and occurs in up to 27% of men who have surgery.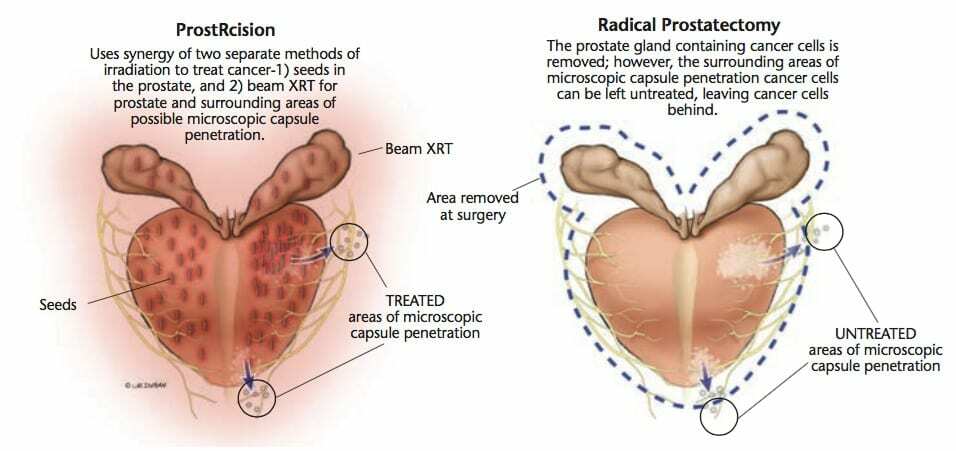 Remember, you are not alone in your recent diagnosis. As you go through this decision-making phase of this journey, it can be beneficial to hear about other people's experiences directly from them. We can connect you with former ProstRcision patients who can answer your questions.
At RCOG we are dedicated to helping provide you with the resources you need to make an informed decision. Whether you are leaning toward treatment at RCOG or just want to empower yourself with the facts, our Prostate Cancer Nurse Patient Navigator is available to discuss any questions or concerns and can determine your cure rate probability.