When evaluating your particular case of prostate cancer, there are three major factors we first consider:
1) Gleason Score
2) PSA
3) Stage
While a pathologist may not include discussion about PSA or Stage in the pathology report, these factors are critical to identify an appropriate treatment plan. Work with your doctor to understand each of these factors. This helps to recognize what your doctor is looking for, and what certain values mean.
The Most Important Measure - Gleason Score
The Gleason Score is considered the most important factor because it shows the rate at which cancer is growing. It is one factor in your prostate cancer treatment planning that is included in the pathology report.
The Gleason Score system was developed by Dr. Don Gleason based upon his study of prostate biopsies under the microscope. The table below shows five Gleason Score categories with the percent of men that we have seen with these scores in our practice in the past few years.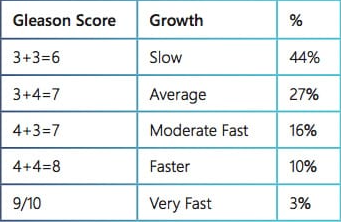 Determining the Gleason Score
A 12-needle biopsy is the standard procedure for prostate biopsy. The biopsy is then sent to a pathologist who looks at the specimens under the microscope. Based upon their findings, they determine your Gleason score, write the biopsy report, and send it to the urologist.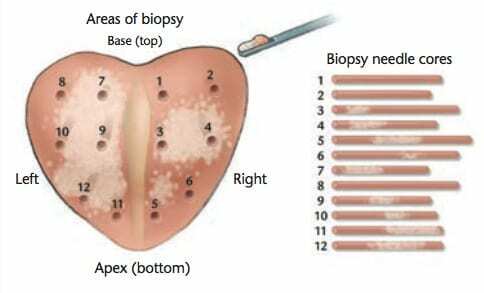 Potential Issues with Biopsy Samples
Biopsy samples are not always the most accurate measure of your cancer. There are two main factors that cause the potential for inaccurate findings. First, when a 12-needle biopsy is performed, only a tiny amount of prostate tissue is removed. Thus, a needle could hit a large area of the tumor and show a Gleason Score of 4+3. However, it is possible that a small area of Gleason 4+4=8 was missed. We have found this issue by comparing biopsy Gleason Scores to men who later had a Radical Prostatectomy in which the entire prostate is studied. Fortunately, this is uncommon with the 12-needle biopsy.
The second reason for an inaccurate finding and subsequent Gleason Score can depend on the skill and experience of the pathologist. Pathologists may differ in the interpretation of their findings resulting in varied Gleason score calculations. Because of this, we always have biopsy material double-checked by expert pathologists before we outline a treatment plan.